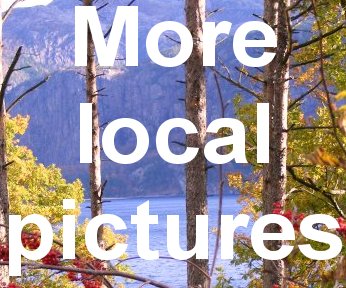 But before you do, remember that you've got to be able to pronounce it.
Flights
The ideal place to fly to is Stavanger (from where we can collect you or you can hire a car).
Probably the easiest and cheapest direct routes to Stavanger from London, Manchester, Newcastle or Scotland are:

(Direct flights from Manchester and Gatwick to Stavanger. Prices vary: can be down to about £50 each way.)
(flies daily direct from Heathrow to Stavanger for anything from £48 each way)
(both fly daily from Heathrow to Stavanger)
(flies daily Newcastle or Aberdeen to Stavanger. Huge price variations: if one date seems very expensive, try a different one. You should be looking at about £70-£80 each way.)

Other routes are:

(flies from several places to Stavanger, often via Copenhagen)
(flies from Liverpool, Manchester or elsewhere to Stavanger via Amsterdam)
(flies Newcastle, Glasgow or Aberdeen to Stavanger; also Liverpool to Stavanger via Aberdeen. Nice airline but usually more expensive than Widerøe)
(flies Stansted to Haugesund + airport bus to Stavanger (bus takes three hours or so).
The Momondo site is useful as it includes all the options above and has a "show price calendar" feature which shows the lowest prices available all month for the route you select.
If you get a flight to Oslo Airport (make sure it's Gardermoen - airport code OSL) with any major airline, you can pick up cheap internal flights from Oslo Gardermoen (airport code OSL!) to Stavanger with Norwegian, Widerøe or (sometimes) SAS.
As a last resort, Ryan Air flies Liverpool to "Oslo" Torp airport in Sandefjord (which incidentally is literally hours away from Oslo), but this entails a long and complicated bus-and-train journey.
If you're in Oslo, Kristiansand, or somewhere else near a railway line, you can take a train to Egersund and we can pick you up from there.
Car ferries
There are contradictory messages about whether the Newcastle-Stavanger ferry is due to start up again, run by an outfit called Norwegian Seaways (even though they're British, not Norwegian).
From Hirtshals in northern Denmark there's a regular fast car ferry service to Kristiansand, which is a train journey (see above) or a 3 ½-hour drive to here - route map here).
The last bit
By car from Stavanger airport (though we'll happily collect you), follow these directions (PDF document - be patient!).
By car from Sandnes, follow these directions (PDF document - be patient!).
---
Pronounciation
Ørsdalen
Err - sh - dah - l'n [with the accent on the first syllable "Err"]

Vikeså
Veek - eh - so (so as in sore) [with the accent on the first syllable "Vee"]

Hovland
Hoov - land (oo pronounced like the sound you make when you try to move when you've got a stiff back) [with the accent on the first syllable "hoo"]